Hail Friends!
     I was there Gandalf. I was there, nine nights ago...when Amazon took the Rings of Power and showed 2 episodes to an army of fans, scholars, internet personalities and a gallimaufry of other free-folk. Wearing a kilt, bearing the Backpack of The Batman... I was there!     

     I had the unexpected privilege of being invited to Amazon's Rings of Power Premiere and Cocktail Party event in NYC on August 23, 2022.  Not only was I not expecting an invite, I didn't even know there was going to be such an event, nor was it even foreseen in my mental-palantir-of-things-Tolkien. I had been deeply involved in the sleep-depriving journey of trying to prepare my new album for release - and frankly, trying to not pay too much attention to all the recent hoopla around the trailers, casting choices and general controversy we often see in porcupine formation around adaptations of some beloved literature.  
     So this blog post will be about the premiere event itself, as well as some of my thoughts on the show.  Not necessarily a point by point review of the show, but more of a stream of consciousness, similar to my thoughts I posted many moons ago about the P.J. Desolation of Smaug movie, (which you can enjoy here.)  Now, I will post spoiler warnings in ridiculous sized text well in advance, so you can avoid spoilers if you plan to watch the show unadulterated later this evening. 

     Well, the day arrived and I made the trek to NYC (thankfully sans frying pans and shire-salt - see more about that in by FB post below if you don't mind the diversion:)
     Well, I survived the encumbered hike from the parking garage to the Belvedere Hotel, and nobody interrogated me about my martial baggage.   Now I must also say, that a huge part of the excitement for me in this whole journey was the opportunity to finally meet one of my greatest friends here in the primary world.  You see, I have been very close friends with master bladesmith and illustrator David DelaGardelle of Cedarlore forge since about 2009 - but we met through the internet, and despite our close friendship, our busy schedules always conspired to foil any chances for in-person meet-ups!  We live multiple states away from each other. We almost gathered at a previous Mythmoot - but, Covid.  And so now through the generous and tireless efforts of Dr. Corey Olsen and Matt of Nerd of the Rings, we were finally able to grip hands in Arnold/Carl fashion for the first time at the Belvedere.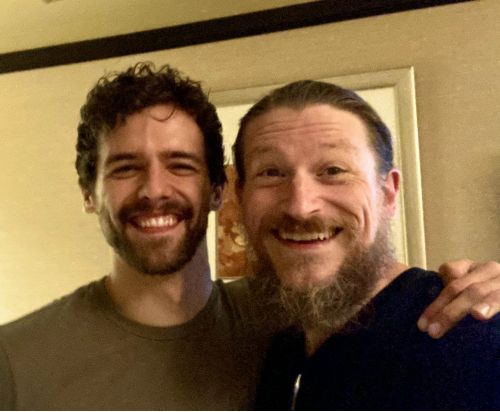 There was so much to talk about and catch up on, the hours passed quickly - but that is another tale. 

     We probably should have just hit the hay, but we couldn't resist wandering NYC just a little bit. And so we had an expensive pint of Guinness, some less expensive pizza, and found upside down trees in Time(s) Square.  I tend to see signs or portents in everything, like a wandering Rorschach-prophet, so I was concerned about the upside down trees before seeing a Tolkien adaptation:

     We got a few hours rest, and the next day we caught up with Dr. Olsen and the Amazon makeup people at another Hotel; where through the brilliant and persuasive efforts of Dr. Sorina Higgens, one of the Amazonian-Hair-Stylists volunteered to braid my hair in Viking (sort-of) style!  David said I looked like a Viking who had sailed to the Lelfalandes Strand.  A fair assessment of the result. Real men (& dwarves) wear braids!   The hair & make-up people were supposed to be done already, so a big thanks to Shqipe Gocaj for spending the extra 30 minutes to wrestle with my Lelfalandes strands. I think it was all worth the time spent, as I distinguished myself at the premier as the only chap in a kilt with braids and rings in my hair (also with a batman bag.)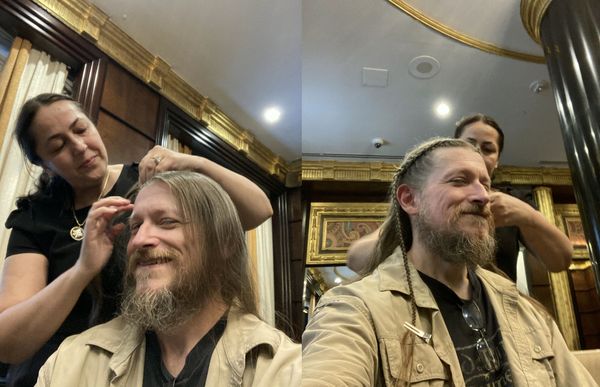 And now we were ready to be off to the premiere. Here we are in the car on the way: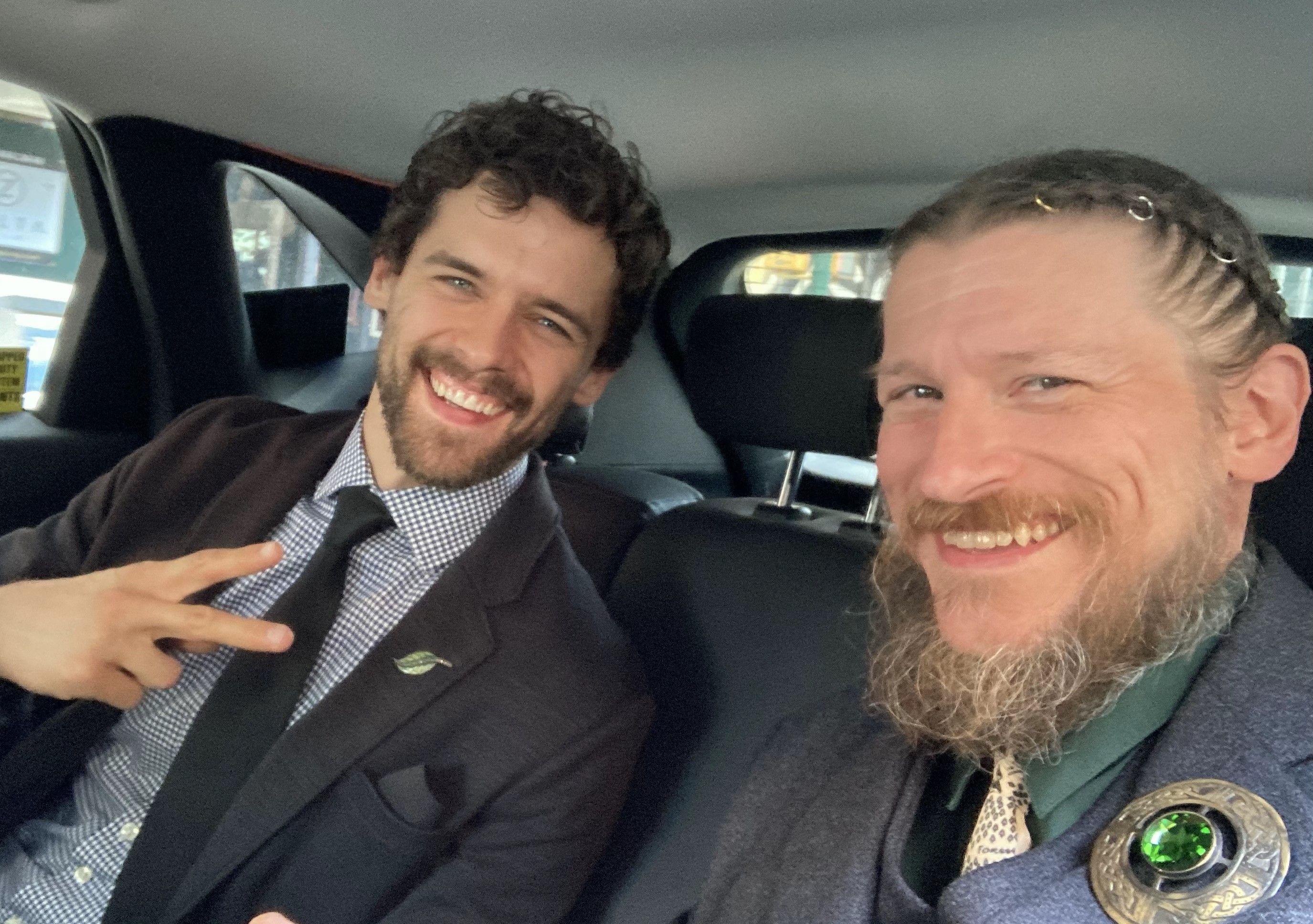 The grand spectacle of the event itself was a sight to behold.  They had Lincoln Center blocked off from most free-folk and after we passed the watcher at the gates - we started to meet with old and new friends: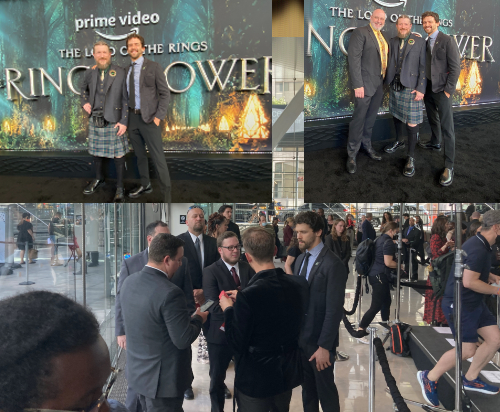 I was able to meet so many wonderful folks from the Tolkien community at this event - but an unexpected blessing for me was the conversation with brilliant artist Jerry Vanderstelt.  See his art at his website here: https://vandersteltstudio.com/lotr.htm  It was only the announcement of the show starting that was powerful enough to draw us away from talk of Tolkien, Lewis & art!  I salute you Jerry! 
 
     The bartender was kind enough to snap a shot of us while we were talking.  Jerry is holding Lonely Mountain CDs, which he later forget inside the Batman Bag!  They are in the Hobbit-post Jerry!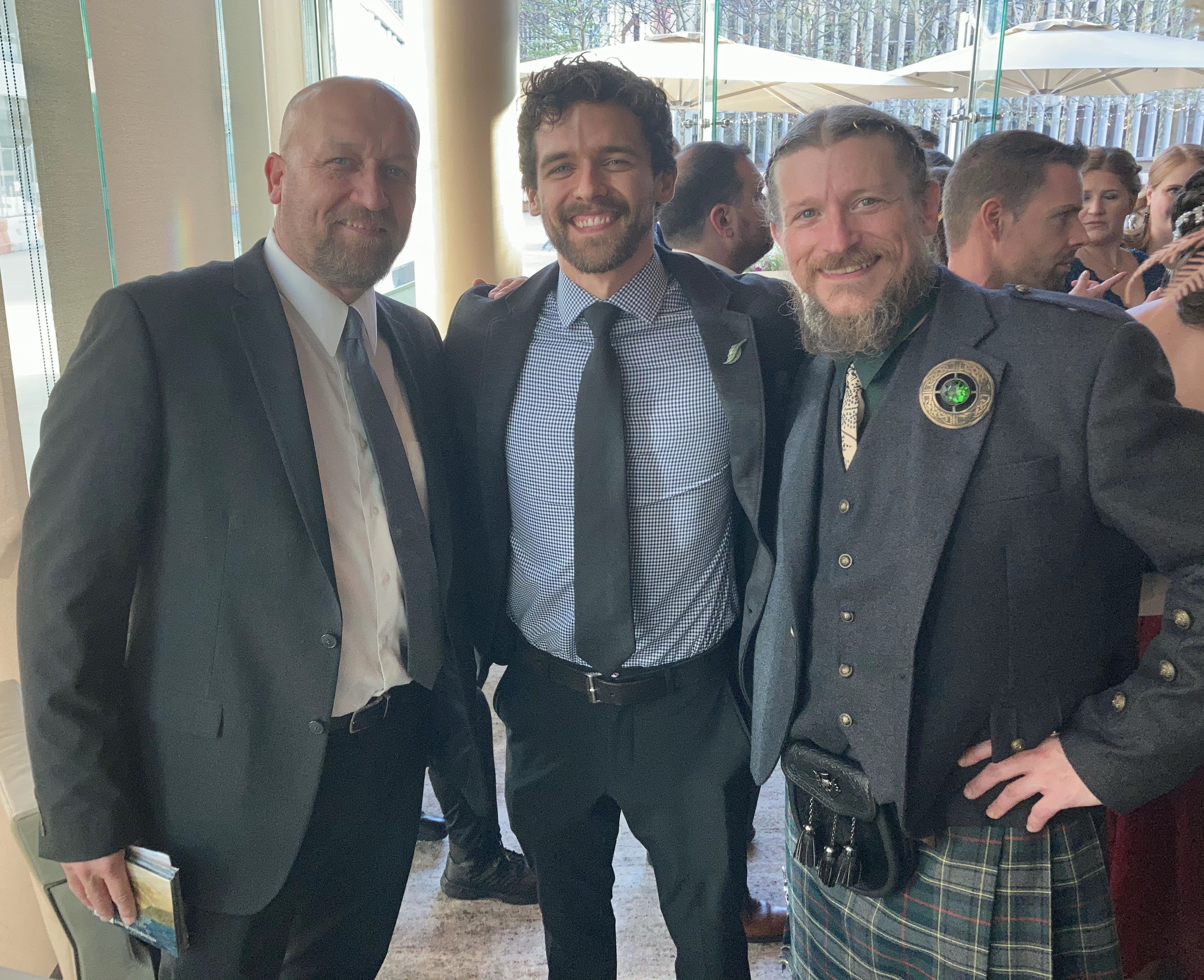 Here is a picture Jerry shooting artistic inspiration (in Jedi-fashion) into David while discussing David's amazing art in the book he is holding!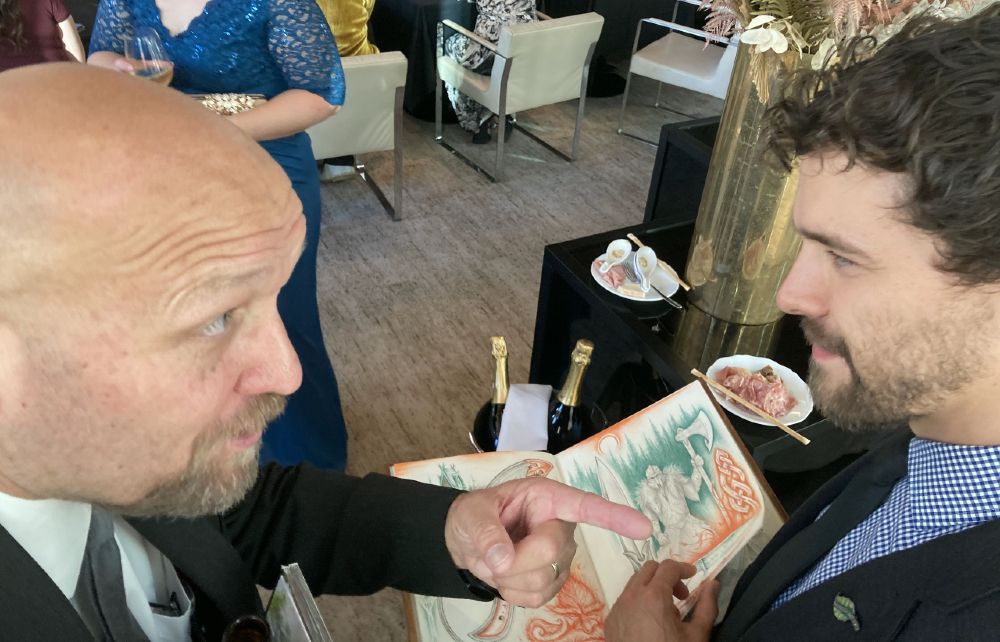 I could be even more Entish and tell you more about all the wonderful people at the event and the conversation that was had - but they just called us into the premiere!  

OK - This is the NON-spoiler part of my review, where I will speak in generalities and of my overall reaction.   Further down, I will give an ever larger warning in advance, for those who don't want to spoil tonight's episodes.
 
     Let me preface this section with the fact that I did not spend very much time watching the trailers, reactions to trailers or early analysis by fans and scholars.  I am the kind of person who doesn't want anything revealed before I watch a show.  I would probably not even read this far if I stumbled upon my Lonely Mountain Blog.   Of course, I couldn't help notice all the angst over the feared 'woke-ness', the artistic choices, the racial choices, the casting and everything else, as it was all over the media and all my friend's threads - both in agreement and disagreement.   I chose to mostly abstain from all forms of speculation, although my default position with any modern productions is to be expecting the worst and hoping for the best: by default, critical, yet ever hopeful.   In other words - I was ready to fully give the show a chance-meeting without any excessive worry.
     I think going into the theater with this mindset really helped me enjoy the two episodes they showed us fully.  As I did with the Peter Jackson films - I start with the premise: are these just good stand-alone films?  I can detach my Tolkien-heart-strings long enough to watch them as TV shows or movies - and judge them on entertainment value, production quality, dialogue and story.   That is where I think everyone should try to start for maximum potential enjoyment.  I was not disappointed. I though the first two episodes were solid!  Yet, I also didn't feel (at the first two watchings - I need to watch a show more than once sometimes) that they were ground-breaking in any way.   I had a much more profoundly positive effect when I came away from P.J.'s Fellowship of the Ring - and yet, I think I also need to remember that this is a TV show and not a film made for theaters.  Although, I do think Amazon would greatly benefit from greater audience reception if they showed the episodes in large movie theaters.  It definitely helped some scenes greatly that I viewed them on a massive movie screen with professional HD audio.  Some of the scenes were really overwhelming, in a good way, because of the massive multimedia system in Lincoln Center.  I definitely think some of CGI will be jarring on home TVs and mobile devices that folks are sure to watch this on - big HD screens will help.  But that's a subjective issue to be sure. 
      So far nothing really rubbed me the wrong way.  Of course, I wouldn't have made some of the casting or artistic choices.  While it doesn't ruin the story for me, I admit at first viewing, it is hard for me to view elves with short hair.  For the non-Tolkien person, I think it might be hard to remember who is an elf and who is not during the course of the show.  I know, a minor thing - but its there in my mind. I use the short-haired elves as just one example of artistic choices that might be jarring to Tolkien fans, but there are other things as well which I don't want to bring attention to and ruin it for someone who might not notice those things. Some of the choices or actions some of the characters take - were weird to me - or jarring to what I know of their character from the books.  Again, I can't be specific in this section : see spoiler section below.   I felt the opening montage and setting of the background could have been longer, but perhaps they will spread that out over the course of the series - which is my suspicion of what they will do. 

     What I really liked, and sometimes loved:  I loved the opening sequence - in fact, as I said, I felt it was too short.  But we shall see what is still in store in future episodes. The Dwarves.  I felt, so far, they have captured the feeling of the Dwarves - an area I am particularly attuned to.  I think I know what the hidden, glowing thing in the little chest is that they open in one of the episodes.  Maybe I will mention that down in the spoilers.   I'm finding it hard to review it without spoilers so let me sum-up the non-spoiler section with this:  I don't think all the massive fears expounded in thousands of YouTube videos about the desecration of Tolkien are well founded at all.  I think the trailers were either poorly done or intentionally misleading. There are still YouTubers out there today making videos about Eminem being Sauron, and female dwarf-beards.   Will those YouTubers produce videos stating that they were mistaken... I wonder.
     So finally, in summation of the non-spoiler section:  I enjoyed the first two episodes. Some things concerned me.  At least two scenes really struck a chord with my "Tolkien-heart-strings" - and I was very moved.  One scene was something to do with sailing into The West, and another scene was related to "meteor man."  I can say no more. 
If I had to give it stars out of five - so far the first two episodes are a combined 3.7 out of 5 !  Not too bad - but there is still several seasons for it all to go to Melkor!   I wish the show-runners the best of success - and I look forward to what they have in store for us!
     After the episodes the show runners came out and did a panel-talk on the stage.  I was very encouraged by what they had  to say about the show and about Tolkien.  And then finally the cast of the show that was present, stood up and took a bow.  Altogether an awesome event - and I am very grateful to my friends who made it all possible.  If you had more time to sit here and read my endless stories, I would tell you about what happened after the premiere - and how the Notion Club took the victory in Dr. Olsen's trivia contest in the pub.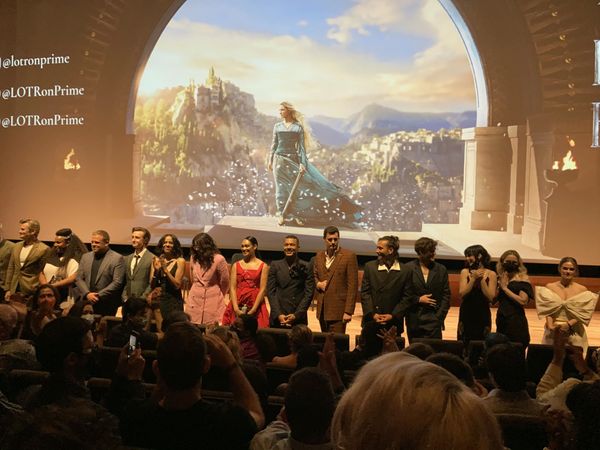 The Cast of The Rings of Power stands up for a round of enthusiastic applause. 
I had a great center seat in the theater.

Finally, I washed the night down with a Big Wave during the Tolkien trivia contest. 
Thankfully it didn't give me an "Atlantis Complex" the next morning. 


______________________________________________________________________________
OK - CLICK HERE - NOW - IF YOU DON'T WANT SPOILERS!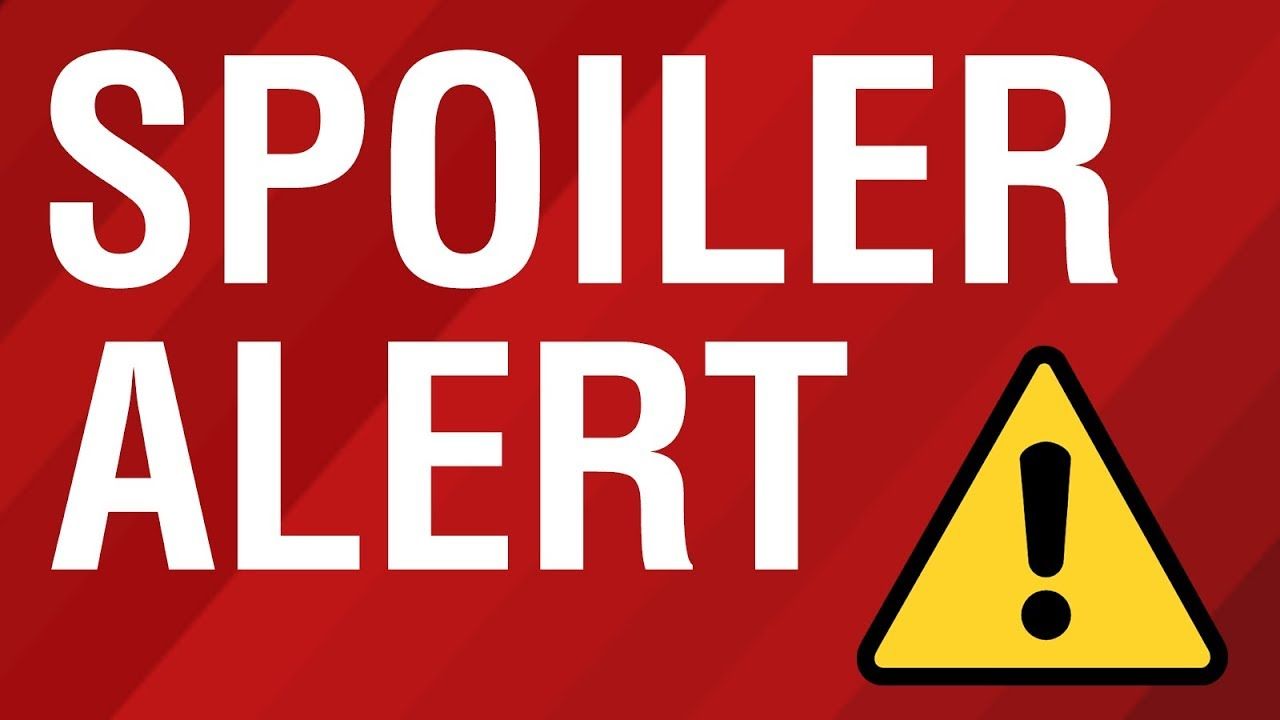 *
*
*
*
*
*
SPOILERS COMING!
*
*
*
*
*
*
*
*
*
NO TURNING BACK NOW!
SPOILER REVIEW:
UPDATE 9/2/22 - I have watched the 2 episodes the second time around and I feel I enjoyed them more during a second watch.  While I enjoyed them more this time, I feel my likes/dislikes remain generally the same.
     OK, instead of doing a long winded and witty spoiler review - I am just going to give brief, point by point thoughts, reflections and some guesses.  And this section won't be too extensive, but rather brief, as really need to watch the shows a couple times to properly analyze.  I am organizing them into sections of what I liked or didn't like.
1. What I liked and or loved:
     As I said above, I loved the opening sequence. I loved how they showed Valinor and the Two Trees - I think that was really well done.  Showing Galadriel as a child was nicely done - especially hinting at the swan-ships with her paper boat.  Beautiful!  The shadow of Morgoth over the trees - mythically well done!
     The Music - great - and definitely reminiscent of films we all know and love.  I would like to hear more rustic instruments though. (not a negative - just a hope)
     The sailing into the West.  Definitely my favorite scene of both episodes.  When the white birds flew towards the ship from beyond the veil - wow - just brilliant.  And then the elves start singing the song of the Undying Lands - just amazing!  And when the veil started to crack open for them to sail beyond the Western Seas- my heart leapt!  Although that was my favorite scene - it was slightly marred by what happens with Galadriel.(discussed below.)  Also  I admit it was weird that they have to sail through a magic gateway to get to Valinor at this state of Middle-earth's history - but it evoked memories and emotions of Aelfwine and the Lost Road - so I accepted the change at an emotional level.
     Elrond at the Dwarven Door.  Apart from this being an accurate depiction of the lore or not, I loved how it conveyed the relationship between Dwarves and Elves.  And also the design of the semi-secret door and its manner of opening was well done. Allusions to a future dwarven door in Lord of the Rings. The contest of strength/skill between Elf & Dwarf - well done!  When they walk into Khazad-dum and the music starts playing - I felt that.  I cannot wait to see more of the realms of the Dwarves.  The glowing thing in the chest in Khazad-dum.  I could see the showrunners heavily changing the lore and making it something like the Nauglamir or Arkenstone - but it's too early to say.  My best guess at this point is Mithril Silver was just discovered and that is why they are suspicious of Elrond showing up just in time to swipe some.
      Female Dwarf Beards: I saw female dwarves with facial hair.  I just think its funny with all the debate that was going on the internet about that - its actually portrayed in the show.   The queen definitely had some scruff growing in some of camera shots.  She must shave for special occasions!
      Beowulfian Swim: I don't know if the show runners planned that -but it felt very Beowulfian/Tolkenian - more on that in the negatives below.  I am speaking of when Galadriel leaps from the ship to Valinor and swims amidst sea serpents for what must have been weeks and weeks!
      Meteor Man: I didn't think I was going to like that part - but I did.  As many have guessed already, he seems to be one of the Wizards - but maybe we are being tricked?  When he bends the forest when he talks - it reminded me clearly of Gandalf in Bilbo's house when he scolds Bilbo.  I think he could be any of the Istari.  The only thing that makes me lean away from it being Gandalf is I always pictured Gandalf as appearing as an old man right from his appearance in Middle-earth - and I think that is hinted at in the books.  But again - this is an adaptation - it could definitely be Gandalf and the connections to him that they have already made with the Harfoots would make sense.  The fire-flies that he plays with, in my mind alluded to fire-works.  And the way they carry him in a wagon, made me think of Gandalf and his wagon of fire-works.
     Family Friendly: This is a big positive for me.  So far the show has lived up to its promise of being watchable by a younger audience, which I think is a very important aspect for the Tolkien audience.
There is more that I really liked, but those are the main points.  There was enough of a feel of Tolkien to please me for now.  Hoping for the best!
2. What I didn't like:

     None of this is too critical - and nothing is fatal so far.

     Casting Choices & Hair, Wardrobe:  I have a hard time feeling Galadriel is Galadriel.  She seems too human to me. The actress is beautiful and talented, but I just can't get away from my mind's eye view of who and what Galadriel is.  She is described in the lore as around 6'5", and dreadful in beauty.  I didn't feel that imposing presence from this casting choice.  But lets see where it all goes - perhaps I will change my view.  Arondir the elf:  I really like the actor - and he has presence, and this has nothing to do with race, but again - I don't "feel" elf from him.  Again - lets see where this goes.   After a second watch - I am warming to Arondir a bit.  I think he is a talented actor. Perhaps I have just been ruined by past adaptations - I just see the majority of elves as having not just long hair, but an otherworldly quality to them that was somehow nicely portrayed in the Jackson films.  Many of the elves in this adaptation - seem too human.  So far my fav is Elrond - but perhaps because he is half-elven and has such distinctive facial features. Again, I'm open to see where this goes.  Some of the clothes and sets seem too 'clean' or 'unused' to me.  Not sure how to explain that - something felt off in that area - not a major complaint though.
      Intro Sequence: Too short. I would have liked to see a longer and more epic opening sequence.  Again - not a big deal, and I suspect they may return to it over time.
     Gil-galad able to bestow a return trip to Valinor: I know I'm not the only one weirded out by this.  It just felt really weird when he announced it as a reward for scouting Middle-earth for orc leftovers.
     Galadriel Jumping off the Ship to Valinor: The most jarring scene to me and my neighbors in the seating of the theater.  She was on the verge of entering heaven and she just jumps off the ship.  That bothered me.  It ruined the moment for me. I know Galadriel decided not to go into the West - but having her do it at that moment felt REALLY odd and even irreverent in a way.  I understand the writers were trying to show the dramatic decision she made, but it seems so unrealistic that an Elf would resist the call of the song of the Undying Lands at that late moment in the trip. She then makes a Beowulfian swim across endless leagues with sea serpents. (really made me think of Beowulf which is a good thing)  I wonder if the showrunners had that in mind. 
     Harfoots: I didn't mind them, but their introduction scene kept reminding me of an Ewok village.  My own flaw, I'll admit.
So I have a few more negatives, but the above being the main points.   I think besides Galadriel jumping off the ship to heaven, most of my complaints are in the casting and the look and feeling of certain elements of the show.
Yet despite both positive and negative, I still feel it is too early to judge the show one way or the other as whole.  
Well there it is!  I hope you were able to survive my long-winded tale of the premiere night and some of my thoughts and reactions to the first two episodes.  Now that I have watched it again on Amazon Prime, I definitely liked it more the second time around.  And I am really looking forward to watching Rings and Realms reactions!   As a Tolkien nerd, I am probably more excited about Rings & Realms than I am the show itself!
Fair travels friends!
<------  And oh yeah! I almost forgot - there is this link to look at! ;) ------->