HAPPY HOBBIT DAY FRIENDS!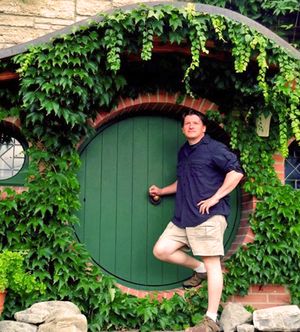 I have a hoard of videos, photos, articles and more in my archives, (especially from the "Middle-earth Network" days...)  One video that I have been anxious to 're-share' for a long time is my visit to the Greisinger Museum Grand Opening from back in 2013.  This video was part of a four part article series I did for Legendarium news, and I will revisit those articles in the coming weeks. My visit to Switzerland for the grand opening party was such a memorable event and I have many photos and memories of that adventure that I hope to share on this new blog.   I actually created this video montage on Hobbit Day 2013, and I am very happy to post it again in honor of Hobbit Day 2019.   
*** Note*** - in the video; all paintings, books, letters and many other items are the actual originals!  Bernd Greisinger has the most amazing collection of Tolkien related treasures I have ever seen.  Also a fun memory is during the maniacal fireworks display at the end of the party; if you listen closely you can hear Tolkien artist Jay Johnstone and I joking and dodging stray fireworks with a shout of "INCOMING" when a firework whizzed and exploded right over our heads! LOL!
Look for more treasured memories to come on this blog... for now, I hope you enjoy the video and here are some of my comments from the original post in 2013:

"Don't adventures ever have an end?  Well I could easily go well beyond four parts for the reports of my visit to the Greisinger Museum in Jenins, Switzerland.  Yet I think this tale is now best told in picture, music and video.  And what better day to wrap up my tales than on Hobbit Day itself?!  September 22, 2013 – HAPPY BIRTHDAY FRODO & BILBO! 
But in closing, I do want to say again what a special trip and experience this was.  You simply have to visit the museum yourself, and enjoy the hospitality of Switzerland to fully appreciate the magic of it all.  It is very easy to travel in Switzerland, even if you only speak English like myself.  If you have any questions about planning a trip, simply contact the museum though their website at http://www.greisinger.museum/en/
Thank you Bernd & the Greisinger Museum team – it truly was a party of special magnificence! 
Enjoy the slideshow below 
The slideshow moves fast over many pictures – so feel free to click pause anytime.